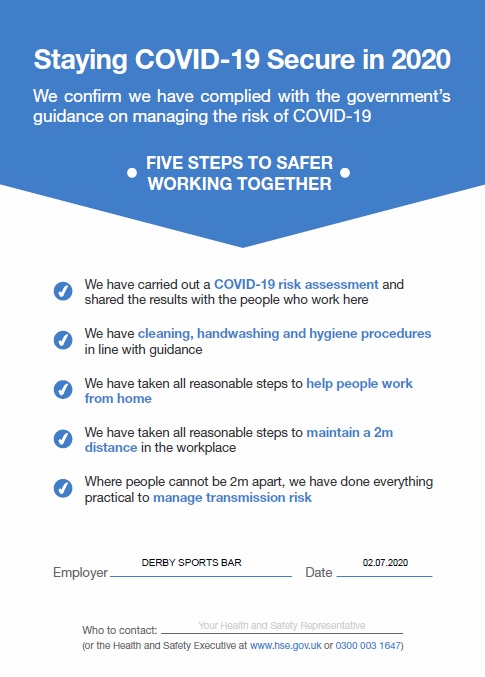 Please follow Physical Distancing guidelines and avoid shaking hands or hugging at all times.
Hygiene: please use sanitizing facilities we have provided around the bar and on your way out. After using the toilet, please wash your hands for 20 seconds.
Please avoid touching your eyes nose or mouth. If you need to sneeze or cough, please cover your mouth and use sanatiser afterwards.
We have increased the frequency of our cleaning routine such as but not limited to, all tables, communal touching points and toilets.
We will be dedicated to do table service to reduce the movement around the bar and for the comfort of our customers.
No standing at the bar, if customers require any assistance only one person from each table could come to the bar if necessary. (Following distancing guidelines)
Please avoid touching TVs, only need to ask the waiting staff to change it for you…!
Please be seated at all times and avoid shouting, chanting and singing. (This will keep all customers safer)
TOILETS: Customers should move from their seat to go to the toilet one person at a time from your table. This will avoid congestion and queuing for the toilet.
Payments: To save time during payment, we can provide bar tab so you could settle payment at the end of your visit..! Payments can be made in card or cash…!
We hope you enjoy your experience at Derby Sports Bar
Thank you for your understanding and patience!